Who doesn't love the benefits of new features?
Libby & Kanopy
Have you seen the recent addition to your homepage in the Libby app? It's now easier to get started using Kanopy, scroll down to the Extras section, and tap the button to start watching popular movies, documentaries, foreign films, and more. Similar to Hoopla, there is no hold list or waiting time for any of the videos. Stream in the Kanopy app, desktop, or via Roku, Apple TV, and other Smart TVs. With your library card, you are able to watch eight movies a month!
Additionally, cardholders are now able to check out 20 items on the Libby app at a time and place up to 30 holds. Just in time for a certain upcoming reading program! *wink wink* 😉 
Hoopla Digital
Introducing Hoopla BingePass! Magazine enthusiasts will love this new program. BingePass acts as a single checkout allowing unlimited access to collections for 7 days. Read 1, 5, or 50 popular magazines or complete a full course from The Great Courses with just a single borrow. This feature has begun rolling out, so make sure your hoopla app is up-to-date and you'll be able to find it with the "More" button in the app's bottom navigation bar. Happy reading!

Ancestry & Heritage Quest
Ancestry will return to in-library use only after Fri. Dec. 31. Visit your nearest location beginning in 2022 to use this resource. Alternatively, Heritage Quest is available for at-home and in-library use. This database hosts genealogical and historical collections for more than 60 countries, with coverage dating back as early as the 1700s. Discover the history of a place, while viewing a comprehensive treasury of sources rich in unique records, local and family histories, and aids to help you find the answers you seek.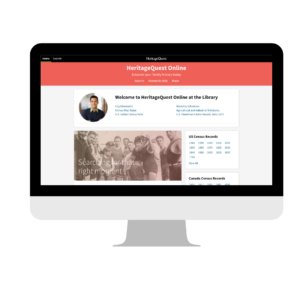 Check out Heritage Quest here!
Freegal
In case you missed it, your library card now gives you access to Freegal Music. Stream up to three hours and day and download three MP3 files a week (resets every Sunday). Sign up to listen to 30, Adele's first album in six years! This album centers around her life experiences from the past few years including themes of heartache, acceptance, and hope felt throughout divorce and motherhood.