55 years ago today, the first episode of Star Trek aired on television. Since the show has meant so much to people over the years, it feels like an event that's worthy of celebration—which is why September 8th is officially known as  Star Trek Day. Back in 1966, though, a lot of people weren't sure what to make of a show that focused on the bridge crew of the starship Enterprise. Television critics were especially harsh, writing reviews like, "Watchers with some idea of how good science fiction drama can be will just have to wait, it appears, until TV science fiction, too, comes of age." As it turns out, though, those reviews meant very little to the television audiences. The show immediately formed a passionate fanbase that wished they could really join an intelligence organization like the Starfleet Federation. 
It's because of those fans (affectionately known as "Trekkies,") that Star Trek has grown into a universe which includes five live-action series, two animated series, as well as countless films, graphic novels/comics, and novels. In fact, the show's imagery and catchphrases are so recognizable, it's impossible not to have heard them somewhere, from "Space: the final frontier," to "Beam me up!" The show is more than just clever sayings, though—and there's never been a better time to dive into the Star Trek universe. We've picked out a few books, movies, and shows to help you get started.
The Star Trek Book is a great way to learn the ins and outs of the Trekkie universe. It's broken down into several categories, like Allies and Enemies, Starfleet, and more. The book not only covers multiple shows from the Original Series to Enterprise, but it's filled with helpful infographics, and behind the scene photos. There's a quick guide to the different planets and civilizations visited by the show's characters, and even a chapter devoted to how the show has influenced technology in the real world since the 1960s.
That influence was clear in 2009's Star Trek. Not quite a reboot, the movie takes place on an "alternate timeline." In this version, James Kirk doesn't join Starfleet right away. He still ends up Captain of the USS Enterprise—but with Spock as his adversary, as opposed to his friend. Directed by JJ Abrams, the movie acts as a good entry point for new Trek fans, and features a familiar cast (including Chris Pine and John Cho.) The film spawned two sequels, with a fourth in pre-production.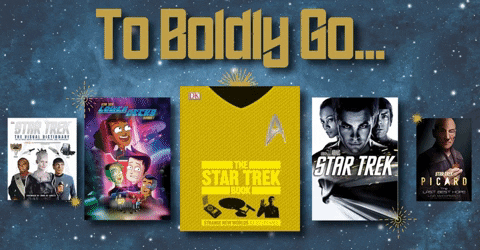 For more detailed breakdowns of the Trekkie world, Star Trek: The Visual Dictionary is yet another big help to new fans. The book features a "character guide" to learn about the universe's biggest heroes and villains. It offers "illustrated tours" of everything from the bridge of the USS Enterprise to Borg™ Technology. Much like the Star Trek Book , it covers different series (and different decades) of Trek.
The newest show in the Star Trek universe is its second animated series, Star Trek: Lower Decks. The show focuses on "lower deckers"—or Starfleet support crew who end up doing more minor (and usually disgusting) missions. The show centers around Ensigns Boimler and Mariner. Boimler (voiced by Jack Quaid,) is a stickler for the rules, and dreams about one day becoming a Captain. Mariner (voiced by Tawny Newsome,) is amazing when it comes to all things Starfleet—but she's a rebel who's been demoted several times for flagrant rule breaking. While the two very rarely agree on anything, they still manage to become best friends—even if it means they'll both end up in the brig. 
Starfleet's many rules also play a part in Star Trek Picard: The Last Best Hope, which precedes the events of Star Trek's latest live action show, Picard. The novel deals with the life of Jean Luc Picard—beloved Captain of the Enterprise during the run of Star Trek: The Next Generation (played by Sir Patrick Stewart.) Now a retired Admiral, the book helps  set up the mystery of why Picard left Starfleet, and how the mysteries surrounding his best friend's death may pull him back into the world he desperately wanted to leave behind.
While Star Trek has clearly had an effect on pop culture, it's not an overstatement to say it has also changed the world. At its core, it's a show about making the universe a better place through exploration and diplomacy. The very idea of a group of dedicated people traveling through space to share information and spread peace is as comforting now as it was on this day back in 1966. "We make mistakes," Captain Kirk once explained, "But we're human— and maybe that's the word that best explains us." There's really never been a better time to be a Star Trek fan. So pick up a book, start watching a new show, and "Live Long and Prosper."