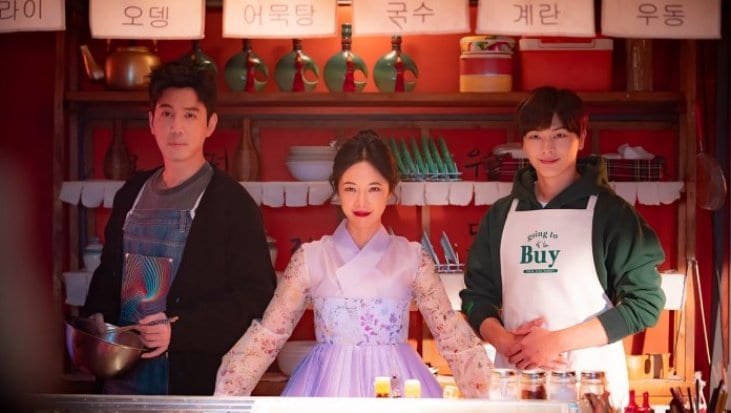 This blog was authored by Summer
Mystic Pop-up Bar is a Korean Drama (or K-Drama) based on the webcomic Twin Tops Bar by Bae Hye-soo. The series primarily follows the three employees of the titular pop-up bar or pojangmacha, a type of mobile South Korean restaurant that is housed in a tent on the street.
The proprietress is Weol-ju, a 500-year-old spirit whose punishment is to relieve the grudges of 100,000 souls as penance for a transgression she made while still alive. But if you think helping people for the last 500 years has softened her character, you'd be dead wrong. Weol-ju is brash, hot-tempered, and above all, bitter. To make matters worse, the goddess of the underworld has determined that Weol-ju has had plenty of time and has now implemented a deadline on her 100,000 grudges. 
This is where Han Kang-bae comes in. Kang-bae has the rather unfortunate supernatural ability to make people unload their deepest concerns with just a casual touch. This isn't something he enjoys, and actually causes him to isolate in order to not be seen as a freak. Sometimes this is played up for laughs, but it is obvious what kind of mental toll this has on the young man. Weol-ju wants to take advantage of his power in order to hasten the completion of her punishment, offering to take away his abilities after she reaches her goal. That being said, their relationship isn't one sided, and Weol-ju grows more and more fond and protective of him as the series progresses.
The third employee is the manager "Chief" Gwi. As the moniker suggests, he is a former Afterlife Police chief. (The word I want to use is "retired" police chief rather than " former", but I'm not sure how "retired" the dead can be.) He is affable and friendly, everything that Weol-ju is not, and that makes just about every interaction the two have rather hilarious. There is an obvious underlying genuine affection and easy partnership between the two, but they both seem to refuse to acknowledge it. 
Probably my favorite part of this series was the focus on family, what that means and how those bonds can have far-reaching consequences both positive and negative. You cheer on Kang-bae as he develops more of a social life and gains confidence in himself. Weol-ju becomes more and more sympathetic as you learn about her past and why she is enduring her punishment. And, surprisingly, Chief Gwi ended up being the character to pull at my heartstrings the most. His comic-relief character guise quickly falls away to reveal a deeply devoted man who would do anything for his family. 
I really liked Mystic Pop-Up Bar as it blends comedy and touching character development in an enjoyable way. 
Overall Rating: B+