The Holiday Season has officially arrived, and that usually means…driving. Not just driving—it also involves a lot of waiting in traffic, some awkward silences, and possibly the need to slip in your ear buds to escape a few uncomfortable conversations. That's what makes podcasts so perfect. Not only are they a great escape, they're a fantastic way to learn something new and have fun while listening.
 While there are hundreds of podcasts to choose from, we're going to focus on established pods that have been around for a few years. Each one has over 100 episodes you can binge (which makes them perfect for those holiday drives, or even just your daily commute). You should be able to find them wherever you get your pods (like through Apple or Google Podcasts.) Also, all of these pods are aimed at an adult audience, so their content and language aren't appropriate for children. ('Tis the season to make good use of those ear buds.) These podcasts are more than just bingeworthy, though—you can use your Library to find the perfect resources which will make you love and appreciate each podcast more. 
True Crime fans can't go wrong with My Favorite Murder. Hosted by Karen Kilgariff and Georgia Hardstark, the pod just released its 300th episode earlier this month. Each Wednesday, you can listen to a new episode dedicated to a specific case (or murderer.) Karen and Georgia occasionally release an episode on Tuesday, interviewing celebrities about the darker sides of their hometowns—or sharing stories sent in by their fans, otherwise known as "the Murderinos." While the duo doesn't skimp on the grisly details, they aren't afraid to lighten the mood with jokes and personal stories. After binging a few episodes, head to your favorite Library location and look for Karen and Georgia's book, Stay Sexy & Don't Get Murdered: The Definitive How-To Guide. They cover everything from how to spot red flags in any given circumstance to "various pancake situations."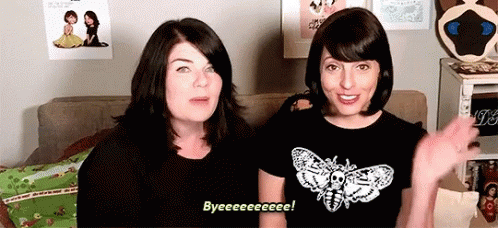 If you prefer your murders fictional and tinged with 90's nostalgia, Teen Creeps is the podcast for you. Each week, Kelly Nugent and Lindsay Katai "discuss the YA pulp horror of their awkward neon youth." The hosts have spent over 280 episodes (re)reading books by authors like Lois Duncan, Christopher Pike, LJ Smith, and RL Stine. Occasionally, Kelly and Lindsay will also talk about new horror novels, like Grady Hendrix's The Final Girl Support Group, or watch popular cult movies like Scream. 
The hosts usually let listeners know about their "reading schedule," letting fans know which books they'll discuss on upcoming episodes. That gives you plenty of time to check the library catalog, and search downloads and streaming services like The Ohio Ebook Project and Hoopla so you can read along (if you dare.) 
Maybe you're not a big fan of murder…but you could use some advice. In that case, you'll definitely want to check out the McElroys. Weekly episodes of My Brother, My Brother and Me start with the disclaimer that Justin, Travis, and Griffin McElroy aren't experts—but that doesn't stop them from offering listeners their best advice. The brothers have tackled all sorts of questions, everything from "How do I get my girlfriend to move to Vancouver?" to "Can a man knock out a gorilla using only hand to hand combat?" 
After recording over 500 episodes of "My Brother, My Brother and Me" (or MBMBAM), the brothers still aren't experts at advice—but they've made up for it by incorporating several other hilarious segments into the show, like "The Wizard of the Cloud" (which highlights the weird and wonderful world of Wikihow articles,) and "Haunted Doll Watch" (where the brothers search for—and sometimes even purchase—the "most haunted dolls they can find" on sites like eBay).  Over the years, the brothers have expanded their podcast lineup, which now includes popular pods like The Adventure Zone and Sawbones. For practical advice on growing your own podcast empire, head to your favorite library location and look for the McElroys' book,  Everybody Has a Podcast (Except You): a How-To Guide From the First Family of Podcasting.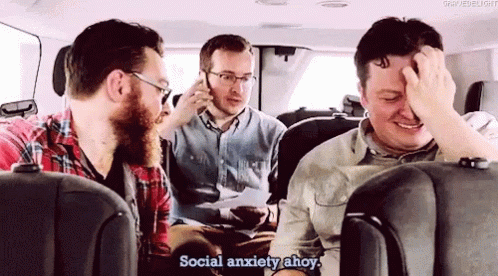 Our last podcast isn't a "how-to," but it does pose an important question: When you're watching a terrible movie, do you ever find yourself wondering,  "How Did This Get Made?"  Actors Paul Scheer, June Diane Raphael, and Jason Mantzoukas decided to make a podcast about one of life's simplest pleasures: watching a bad movie and then discussing it with your friends. Since 2010, the hosts have watched over 275 "bad movies," from Jaws: The Revenge to Geostorm. Sometimes, they'll invite another one of their friends, like Adam Scott or Seth Rogen, to be a guest panelist. They discuss the finer points of everything from plot points to casting, and even look at "second opinions" in the form of Amazon reviews. 
How Did This Get Made? (or HDTGM) releases new episodes on alternating Fridays, with a "minisode" on the Friday in between. During each minisode, Paul Scheer reads listener comments from both social media and Discord, and also announces the movie they'll be covering on the next episode—so you have the chance to watch, too. Not only can you search for the movies at your Library, but the hosts of the show remind you that your library is a great place to find these films. You can find recent HDTGM movies like  Bugsy Malone and The Visitor on Kanopy, and check out Surrogates or M. Night Shyamalan's Old on DVD from any library location. 
The holidays can be stressful, but podcasts really do help make all the tedious parts of the season a little easier to bear. When you're stuck in traffic, it's much less boring with Georgia and Karen talking about Edgar Allan Poe's mysterious death, and Kelly and Lindsay discussing "different flavors of cliffhangers" and character descriptions while reading R.L. Stine's The Baby-Sitter III. When you're chugging coffee and wrapping gifts at 3 AM, it's way more fun if you're listening to the McElroys giving their best advice to worried history ship employees, and the HDTGM crew wonder how a movie with children playing mobsters actually exists. While you may not be able to avoid all of the stress that comes with the holidays, some bingeworthy podcasts (and a few assists from your Library) can help make the season a little more merry and bright.