Halloween is exactly fifteen days away, which makes it the perfect time to eat some candy and read horror fiction. After all, there's really nothing quite like reading a scary story. According to Stephen King, there are three levels of horror: the gross out (which uses gore to disgust people,) the horror (which makes people confront unnatural and fantastical things,) and the terror (which forces readers to use their imaginations and "fill in the blanks" to picture truly nightmarish things.) King calls the terror the "worst level." It's also the one readers usually have to rely on—but there is a form of storytelling that allows readers to experience the gross out and the horror, as well. Graphic novels are unique that way—through their art, readers get to experience all three of King's levels of horror simultaneously. So…if you want to be grossed out, horrified, and filled with terror, these four graphic novels will definitely make your heart beat a bit faster.
Your pulse is sure to double while reading James Tynion IV's Something is Killing the Children (with art by Werther Dell'Edera.) When the kids in Archer Creek start disappearing, most never return—and the few that do give nightmarish accounts of the horrible creatures lurking in the shadows. The town is beginning to lose hope when Erica Slaughter arrives. After getting off to a rocky start with the town's sheriff, Erica volunteers her services as a monster hunter. She was trained by a secret order, and she's the only adult that can see exactly what the children see. Erica is ready to do what must be done…but the training in the world may not prepare her for what she's about to face. 
No one understands confronting the unexpected more than the Locke siblings. After all, their family is unlike any other—that is, if Tyler, Kinsey, and Bode can believe all of their father's stories. Joe Hill's Locke and Key (with art by Gabriel Rodriguez,) tells the story of Rendell Locke's untimely death. Soon after, his widow and their children return to Rendell's childhood home, Keyhouse. Almost immediately, the three siblings find strange keys that act as portals to a different dimension. Unfortunately, the other dimension is dark and filled with Demons—including the one that escaped into this world, and murdered their father. Tyler, Kinsey, and Bode must work together to stop demons from crossing over by using all of their father's stories, and every key available.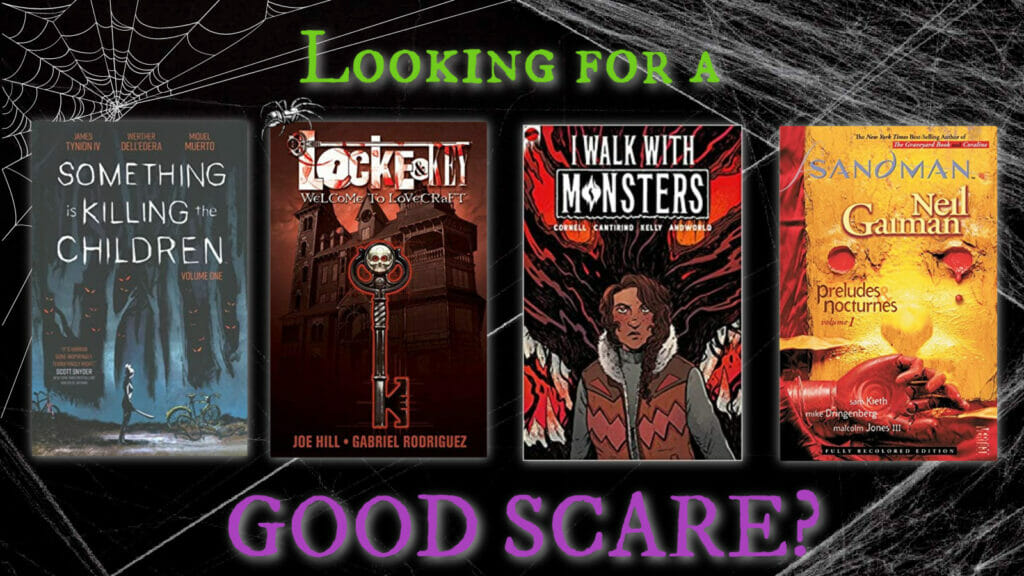 Using every available tool is something Jacey, the main character of  Paul Cornell's I Walk With Monsters (with art by Sally Cantirino) understands. She knows that after her twelfth birthday, her father intends to sell her to the highest bidder. A few months before, he handed over her brother to a politician Jacey only remembers as "The Important Man." She can never forget his face, but can't quite recall his real name.  Jacey escapes her dark fate when her father dies unexpectedly just before her birthday. That's when she meets David—a man with a dark past who can also transform himself into a giant monster. He takes Jacey under his wing, and the two of them travel from town to town, searching for men that prey on vulnerable people. Jacey lures them in, and David feeds on them. Jacey is fine with their arrangement, but David wonders if she might be safer and happier living a "normal" life. Before she gets the chance to try, though, The Important Man reappears. Together, Jacey and David work to end his reign of terror. 
Important Men making bad decisions kicks off what might be the greatest horror graphic novel of all time: Neil Gaiman's The Sandman (with art by Sam Kieth, Mike Dringenberg, and Malcolm Jones III) introduces us to an Occult group performing a dark ritual, with the goal of capturing and imprisoning Death. While the group successfully summons someone, it isn't Death—instead, it's one of her brothers. He has many names, but he's best known as Morpheus, or Dream. Imprisoned for seventy years by the Cult Leader and his son, Morpheus finally escapes. After returning to his realm, Dreaming, he rebuilds his crumbling kingdom, and decides it's time to right several thousand years of wrongs—which includes confronting both serial killers and supervillains. Worse yet, it also means Dream must come face to face with all his siblings…and even Lucifer himself. 
Whether you like gross outs, horror, or terror, it's the perfect time of year to experience all three. After all, it's one thing to read about strange keys and shadows, but it's another to see what's lurking on the other side of them. Even if you're new to the format, these stories are a great introduction to the world of graphic novels. They're also the perfect compliment to your Spooky Season…even if they will make you want to sleep with the lights on for a few weeks.