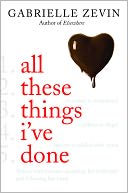 Soooooo, Bits and Bramblers…are you done with the Teen Summer Reading Program? Read your 1000 pages? Picked up your gift cards to Barnes and Noble and Target? Keeping your fingers crossed we'll pick your name in our Grand Prize Drawing, and you'll be the winner of a Kindle Touch?!
That's what I thought.

But just in case you…you know, haven't registered for our Teen Summer Reading Program, you still have time. Seriously, head to your faaaaaaavorite library location, and sign up today! While you're there, you'll have to load up on awesome books to help you reach your 1,000 page goal. Luckily, I can help you there…in fact, I can help you knock exactly 354 pages off that total.

Haaaaaaave you read All These Things I've Done? Let's just say I'm glad I'm not Anya Balachine. She finds herself in an absolutely horrible position, and has to make a choice: will she pick love, and stay with her boyfriend Win…or will she choose to help her family? That's a hard enough decision to make, but…what if by "family," what I mean is…"organized crime family?" You know…mobsters.

Check out this book trailer, then head to your faaaaavorite library location, grab some Teen Summer Library Reading Program entry forms, and check out All These Things I've Done!
.
.