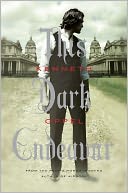 So…you've nearly read your 1000 pages for the Teen Summer Library Program, right?! I mean, over 700 of you signed up in the first which, which is just…made of awesome. Now…if you haven't signed up, I won't lecture you (much, anyway,) but I will remind you that you can register at your faaaaavorite library location. You read, you earn cool prizes. What's not to like?) If you're still working on those 1000 pages, I can help you out. In fact, I've got a great way for you to knock exactly 304 pages off that total.

Haaaave you read This Dark Endeavor? Now, I'm not going to lie…the book is pretty dark, and if you're squeamish, there are a few pages you might want to…skim through. It's the story of Victor Frankenstein, and his twin brother, Konrad. Aaaah, that's a familiar name, right? Frankenstein? Well, this is a prequel to the classic Mary Shelley novel. In it, you'll learn how Victor Frankenstein became…well…Victor Frankenstein (and you'll be ready when the book's sequel, Such Wicked Intent, comes out at the end of August!)

So…what are you waiting for? If you haven't already, sign up for the Teen Summer Library Program. Then head to your faaaaavorite librarylocation, and check out This Dark Endeavor today!
.
.