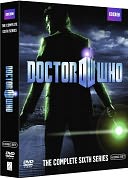 Ahhhh, winter. The snowy windy days get old quick…don't they, Bits and Bramblers? Still, there's an upside. When it's cold and icky oustside, that makes it the perfect weather to wear PJs all day, curl up on the couch with some snacks, and watch some DVDs that you checked out from your faaaaaaavorite library.

And if you're looking for a good TV show to watch…haaaaaave you tried Doctor Who? The show is sort of legendary, considering that it's been on and off the air in the United Kingdom for nearly fifty years. So…how great is this show? Seriously…I don't even like SciFi all that much, and I'm trying to come up with actual words to describe it's complete and total awesomeness.

But you know what the coolest part is? I would never have watched the show if a few of your faaaaaavorite librarians hadn't recommended it. I was all, "Yeah…I don't know if it's really my kind of thing," but they wouldn't give up until I'd tried it. So when I showed up a few days later blubbering, "TARDIS! Daleks! Sonic Screwdriver! WEEPING ANGELS!" They fully understood.

And now it's your turn…head to your faaaaaaavorite library, and check out Doctor Who. Even though the show started back in the sixties, I recommend starting with Series One of the latest "reboot," and sticking around for Series Five, and the Eleventh Doctor, who's my personal favorite (What can I say? Bow ties are cool.) Seriously…check out the show, and WATCH IT NOW.

…After all, if you love it? You can always talk about the show with your faaaaavorite librarians.
.
.
.
.