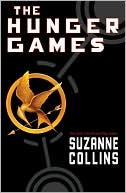 …Seriously, you should really see this.

But before you do, I have a quick admission to make, Bits and Bramblers. See, I've written some posts about The Hunger Games before. I've talked to tons of librarians and a lot of you who lovelovelovelovelove the series, and they all want to talk to me about it, kind of…automatically assuming that I've read it, too.

Which…I…er…haven't. Okay, here's the thing. I started reading The Hunger Games, and I totally finished the first few chapters. It's just that…it didn't suck me in, you know? It wasn't the kind of book I had to KEEP READING because I NEEDED TO KNOW WHAT HAPPENED AND I DIDN'T CARE ABOUT STUPID THINGS LIKE WORK OR SLEEP, ONLY WHAT HAPPENED IN THE BOOK. Also, a lot of you were waiting to read or re-read it, so I couldn't renew it, and I just…you know…never picked it back up. So I've totally been…well "lying" is kind of harsh. Let's just say I've been "faking enthusiasm" for a book series I've never read.

And then I saw this. OMG, HAVE YOU SEEN THIS? YOU HAVE TO SEE!
.
.

.
.
Is this what I've been missing?! Is this why you all love it so much?! I was practically biting my nails for Katniss, and I don't even really understand what's going on! So…guess what, Bits and Bramblers? Looks like I'm giving The Hunger Games one more try.

So…are you a big Hunger Games fan? Be honest…what am I getting myself into?! Should I be prepared for anything? I heard that a bunch of characters called "tributes" die, is that true? Should I have Kleenex on hand when I read? And more importantly…what do you think of the trailer?!