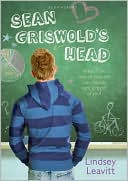 …Your time is running out, Bits and Bramblers. You only have a few short days to finish reading 1000 pages for our Teen Summer Library Program, and win fabulous prizes, like a Target Gift Card.

But while time is running out, you're not out of time. In fact, you still have a few days to read and turn your slips in at your faaaaaavorite library location. You can do it, Bits and Bramblers. I believe in you.

I also believe that if you're…let's say…276 pages short, you should definitely pick up Sean Griswold's Head. Maybe I should rephrase that, 'cause it sounded kind of…weird. You should definitely read Sean Griswold's Head. There. That's better. You know what? Just watch the book trailer…
.
.
.

.
.
Now that you've watched that…why are you still here? You want to win fabulous prizes just for reading, right? Then CHECK OUT SEAN GRISWOLD'S HEAD. Okay, that was weird again. Let's try one more time…READ SEAN GRISWOLD'S HEAD NOW!