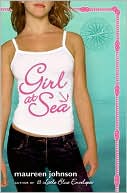 Ahhhhhh, summer vacation. It's the best time of the year, right? You go to bed when you want, you get up whenever you want, and you get to have fun with your friends and flirt with your crush. But what if you planned out your entire summer…and suddenly everything changed?

That's what happens to Clio, the main character of Maureen Johnson's Girl at Sea. After that, things get a little crazy. Airplanes! Italy! Boats! Oceans! Jellyfish! Secret plans! Other things that require exclamation points! So check out our book trailer, and READ GIRL AT SEA NOW!

After all, it'll knock 323 pages off that 1000 page total! What's that? You're not registered for Teen Summer Library Program? Don't you know you can register at any M/RCPL location? Get moving, Bits and Bramblers!
.
.
.