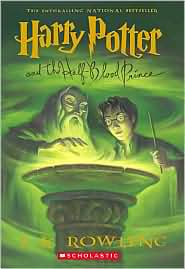 Wow….can you believe it's been two years since the final Harry Potter book was published? And two years since the last Harry Potter movie hit theaters? It doesn't seem like two years, does it?

But here were are, two years later…and Potter Mania is back! So…are you counting down the minutes until midnight, when Harry Potter and the Half Blood Prince hits theaters?!?!

I'll be honest with you, Bits and Bramblers—I'm excited. Especially after reading all these awesome stories about the new movie and it's made-of-awesome cast.

So…if you can't get enough Harry Potter, here are some more Potter-goodies: you can always find out the lastest news by stopping by The Leaky Cauldron! And since you might not have time to reread all six books before you see the new movie, here's a "Potter Primer" from Time Magazine (this way, you'll know at what point in the story the new movie will start!

And speaking of Time Magazine…check out this article on Harry and the Potters, and the whole "wizard rock" phenomenon!

And speaking of wizard rock, Potter fans, we'll leave you with a song by Draco and the Malfoys. They're awesome. I got to see them in concert a few years ago, at a librarians-only show. (See? That's one of the reasons I love my job!) Not only were we wearing the same shoes, but when I bought a few of their CDs? They totally autographed them for me. (See? Awesome.)

Enjoy the new movie, Bits and Brambers/Potter fans…and let us know what you think!