…Uh-huh, you read that right. And it's in Swedish, so you probably don't have any idea what it means. It says, "The Library is Good for You." See, I'm about to explain one of the reasons why libraries are so awesome—and it totally involves Swedish.

Remember the whole…mess this summer? Well, I'm not afraid to say that all of your faaaaavorite librarians were more than a little bit freaked out by the whole thing. So one day, we started talking about hobbies, and trying new things. So I made a joke. "I would learn a new language. I can speak a little Spanish, so I'd learn something completely different, like…Swedish."

And I meant it—I think Swedish sounds pretty cool, so…why not learn it? After all, I love to shop at Ikea. I really like Alexander Skarsgård. And who doesn't love Swedish meatballs? Or ABBA?!?!?! (And while the Swedish Chef is awesome, even then I was pretty sure that he's not really speaking Swedish…)


Still, I was sort of joking. I mean, who just decides to speak Swedish out of the blue? Besides…I figured someone would tease me. Here's the thing, though—Nobody laughed. Instead, one of the awesome people I work with said, "Do you really want to learn Swedish?" And then I said, "Well…yeah, I kind of do."

So two minutes later–literally–they handed they me a book . Then when I couldn't find CDs on Swedish at any of our libraries, the Made-of-Awesome-InterLibrary Loan Department said, "It's no problem, we'll borrow some from another library." And within a few weeks, I was driving to work listening to Beginner's Swedish CDs—learning colors, numbers, and how to ask what time it was. In Swedish.

And here I am, three months later, and jag talar lite svenska (I speak a little Swedish.) And all because when I said I wanted to learn, the people I work with didn't say, "Wow…you are really geeky," or, "That's so stupid." They just helped me find exactly what I needed. And they made other suggestions, too—"There's this website from the Stockholm School of Economics…" and "Did you know there are tons of Disney songs dubbed in Swedish on YouTube?" (There totally are. And I won't lie…the Genie from Aladdin is…scary in Swedish.)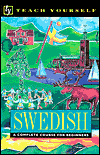 …But the thing is, it's not because I work here. It's because that's what the library does. When you walk in the doors, no matter who you are, or what you want, we help you. If you decide out of the blue that want to learn how to knit, we'll help you. If you want to learn how to throw a knuckleball, we'll help you. Even if you walk in the door and say, "I'm failing algebra, and I need some books on it," we won't point and laugh. We'll just help you the find some books (and some of us will even tell you that we failed algebra, too. Not me, though. Yeah…that was someone else.)

So that's why biblioteket är bra för dig (the library is good for you.) Because no matter what you need—if you need help with work or school, or if you just want to learn how to speak Swedish, we can—and we will—help. I just wanted to remind you, in case you forgot.

And now that you know, I'll expose you to a little more Swedish. Sort of. Here's a very Swedish band, singing in English (because who doesn't love ABBA?!?! The hair and the clothes alone…come on! How can you not love them?!?!)
.
.