June 28th, 2012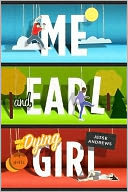 You know what I think, Bits and Bramblers? I think those "lazy, hazy, crazy days of summer" are here. But if you're not a fan of hazy days with 100° heat (er…are there fans of hazy days with 100° heat?! Honestly?!) we've got lots for you to do here at the library. Like…I don't know, let's say…our Teen Summer Library Program.

But I don't have to tell you about THAT, do I, Bits and Bramblers? You're all ridiculously smart and generally awesome, and you've probably already completed the program, right?! You read 500 pages, and earned your $5 gift card to Barnes and Noble. You've read 100 pages, and earned your $8 gift card to Target, and you're automatically entered in our grand prize drawing to win a Kindle Touch. Right? RIGHT?!

Okay, if you haven't registered for the program yet, you've still got time. Just go to your faaaaavorite library location, and sign up today. I can even help you earn some quick pages–295 pages, to be exact. All you have to do is read Me and Earl and the Dying Girl. Now…from the title alone, the book sounds like it will make you cry, and you will feel miserable for days after finishing it. It may make you cry. I'll give you that. But I promise you'll also laugh–in fact, I promise you'll laugh waaaaaaay more than you'll cry. So what are you waiting for? Check out this book trailer, then head to your faaaaaaavorite library location, ask about the Teen Summer Reading Program, and read ME AND EARL AND THE DYING GIRLTODAY!
.
.