April 22nd, 2011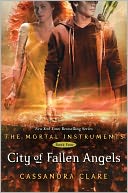 Okay Bits and Bramblers, you know I'm a big fan of the Mortal Instruments Series. Which is why I was soooooo excited to read City of Fallen Angels. There were so many unanswered questions…like, what happened with Jace and Clary?! And Simon?!

And I meant to take my time reading it—really, I did. Only, after I read the first chapter, I just…kept going, until I had devoured the entire thing. Because it's that good. So good that you should stop whatever it is you're doing and READ IT NOW.


Unless you haven't read the first three books—City of Bones, City of Ashes, and City of Glass. If you haven't read those books, then my first question is WHY HAVEN'T YOU READ THOSE BOOKS?! and the second thing I'll tell you, obviously, is to READ THEM NOW.

I'll leave you with a video made by a new character to the Mortal Instruments world, Maureen Brown (*coughimportantcharactercough*) But watch close, because you'll see a ton of your favorite characters–including Isabelle, Alec, and Magnus. So what are you waiting for?! Watch the video, get City of Fallen Angels, and READ IT NOW!
.
.
.